These are not just good alcohol-free beers. They are good beers that just happen to be alcohol-free.
It is common for individuals and groups to take part in an alcohol-free month at this time of year, after the excesses of the festive period. Whether you have joined One Year No Beer for this purpose, or you have already been on an alcohol-free journey, I am here to recommend some great non-alcoholic beers to give you a helping hand.
If you're interested in exploring our best non-alcoholic drinks blog series, check out the following articles; 'Six of the best non-alcoholic beers for autumn', 'The best non-alcoholic and low-alcohol wines for 2020' and 'Our top 6 AF and low-alcohol beers'.
My top five alcohol-free beers for the New Year:
There's a fantastic range of new and exciting alcohol-free drinks on offer, from traditional wines and beers to a growing range of spirits and kombuchas. Overall the non-alcoholic drinks market has grown rapidly in the last couple of years and is showing no signs of stopping.
With so many new drinks on offer, it's hard to know which to choose so here are five of my favourite beers.
Coast Beer Co – Farmhouse Ale 0.3%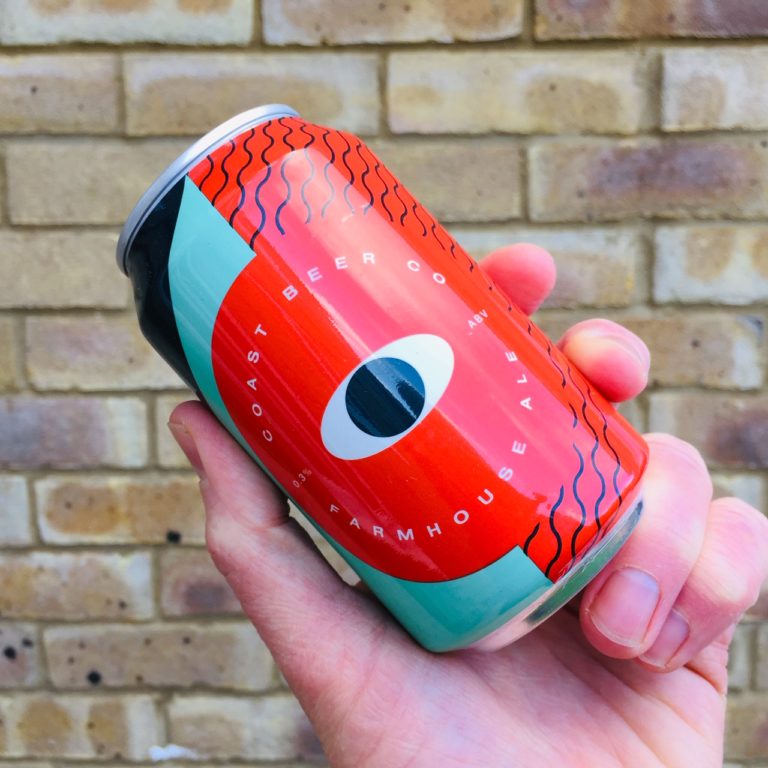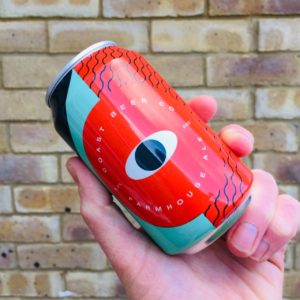 The Scottish company Coast Beer Co launched in 2019 with a manifesto to bring the craft beer revolution to the alcohol-free market and remove "the tasteless, mass produced and downright nasty alcohol-free beers of yesteryear". They've certainly delivered on their promise with two great beers; Hazy IPA and Farmhouse Ale.
On pouring, the Farmhouse Ale is a rich pale amber colour with a hazy appearance. In the glass there's a creamy head that keeps for a long time through drinking. The beer has a strong aroma that's sharp and delivers a variety of fruits with hints of grapefruit and tangerine along with an underlying sweetness that accompanies the malts.
With its strong amber colour, you expect a full-bodied beer and the Farmhouse doesn't disappoint. Drinking the beer delivers a smooth luxurious feel as the beer settles on the tongue and delivers a tangy taste that's both refreshing and leaves you wanting more. After the initial tanginess you can appreciate the full range of flavours. There's an underlying sweetness that accompanies the bitterness. The flavours deliver the grapefruit and tangerine along with the maltiness that the aroma made you expect. 
This is a refreshing beer that delivers a full-bodied experience.  It's rich creamy to drink and leaves you coming back for more. 
Drop Bear Beer Co. – Yuzu Pale Ale 0.4%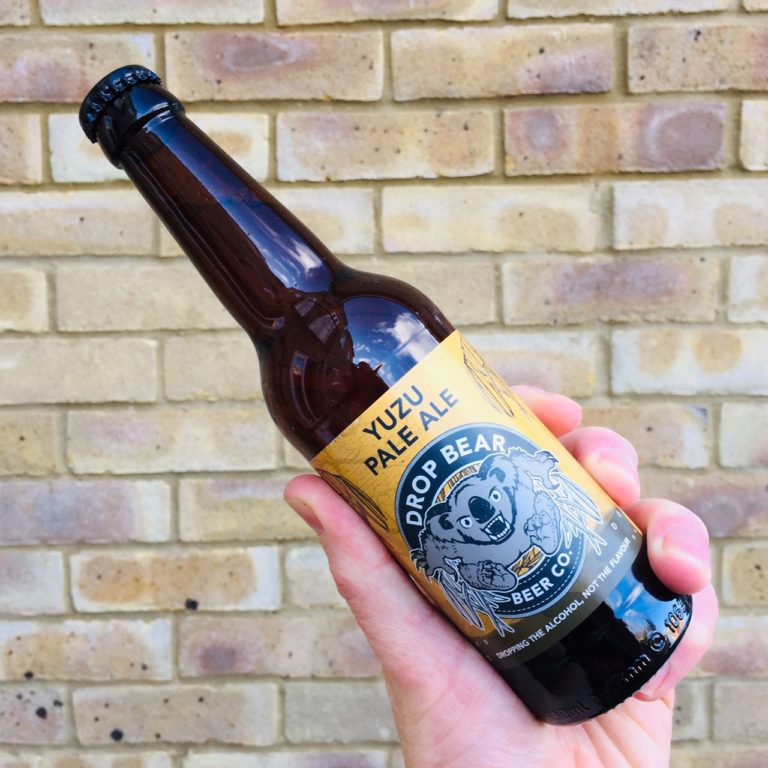 Drop Bear Beer Co is another new company that launched in 2019 with two brand new beers. Founded by partners Joelle Drummond and Sarah McNena, the Welsh company's rise has been rapid during 2019 with a third beer already launched, a crowd funding that doubled their target and the founders winning the Young Entrepreneurs of the Year at the Wales Start Up Awards.
Their pale ale uses the yuzu fruit to give it a unique flavour for the alcohol-free market. If like me you'd never heard of the yuzu before, it's a citrus fruit from central China. It's is a lighter bodied beer of a clear medium amber colour. Pouring it into a glass gives a good head to the beer, but this slowly fades as it's drunk.
The beer's aroma combines a rich malty caramel scent with the citrus of the yuzu to give a full-bodied aroma that reminds me of a classic fruit cake. It's a very light bodied beer that's slightly watery with a refreshing fizz that makes this an easy beer to drink. The flavours from the caramel malts come through followed by a citrusy hit that I assume is the yuzu.  
Each sip leaves me wanting to go back for another and I think the light and refreshing body of the beer would make a great accompaniment to a heavy meal.
Lucky Saint – Lager 0.5%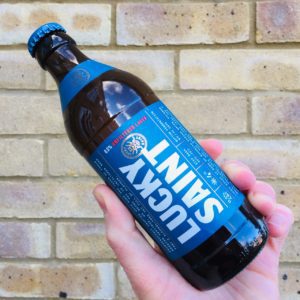 Lucky Saint was founded by Luke Boase who set himself the mission of brewing a "non-alcoholic beer worth drinking". He worked with four different brewers but failed to brew the beer he wanted. Undeterred, he moved to Germany to find the right brewer and spent a year developing the beer that became Lucky Saint Lager.
As this is poured it develops a good, strong head that lasts for long time as it settles upon the unfiltered hazy straw-coloured beer. It has the distinctive aroma of a high-quality lager with a strong scent of hops and a slightly floral edge, but you can sense and anticipate the edge of bitterness to the flavour. 
Drinking the beer delivers a creamy and smooth mouthfeel. It lacks the traditional carbonation of the majority of lagers which adds to its luxurious feel. The flavours are equally rich with a hoppy bitterness that's edged with a soft fruity sweetness. The after taste is slightly bitter, but full of complex flavours to be savoured.
Lowlander – 0.00% Wit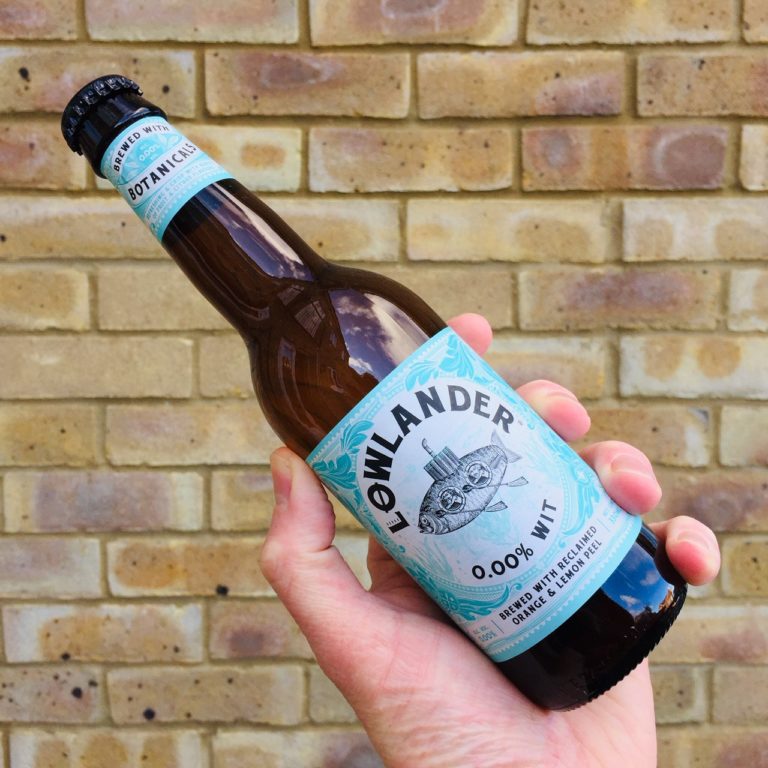 The Netherlands based Lowlander are the only company from this selection that don't brew just alcohol-free beers. They specialise in combining forgotten brewing heritage with their curiosity for botanicals to brew unique beers. For their alcohol free 0.00% Wit beer, they've taken this a step further and partnered with PeelPioneers who collect discarded citrus peel from bars and put it to good use making this an environmentally friendly alcohol-free beer.
Pouring the beer gives a generous foamy head that sits atop a hazy pale straw-coloured beer. The citrus aroma is immediately evident with both lemon and orange very prominent. With such a fruity aroma, you expect a refreshing beer and it doesn't disappoint. It's full-bodied, but the citrus gives the uplifting feel of a much lighter beer. There's still the bitter edge from the hops that add a layer of complexity to the flavour and give reason to pause to appreciate the flavours within.
Freestar – 0.0%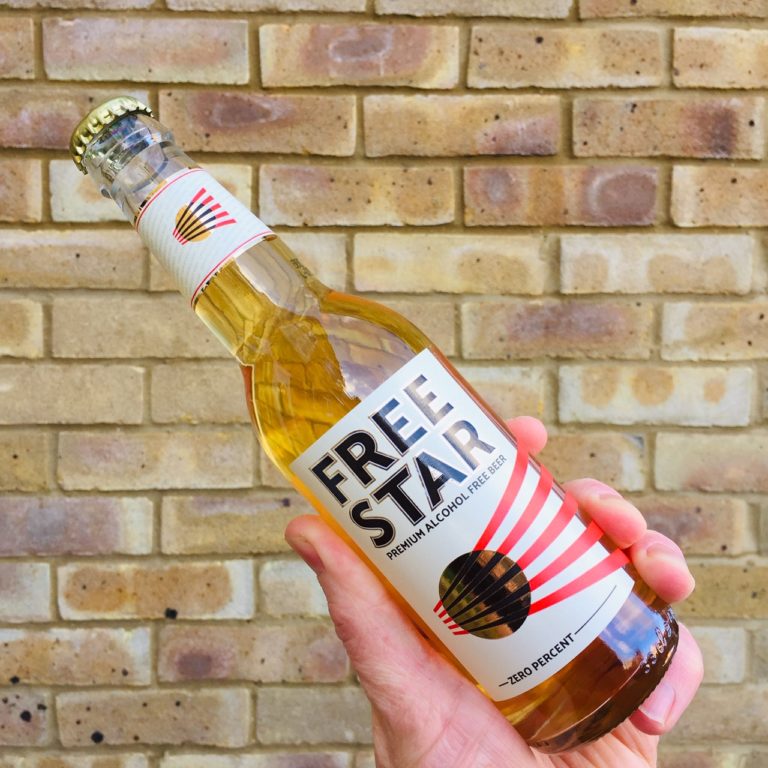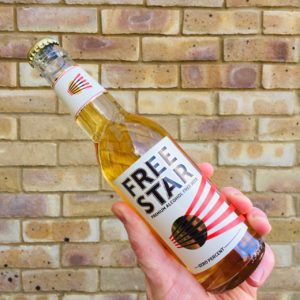 Freestar is another new company that arrived in 2019. They wanted to develop a non-alcoholic beer that would pass the Guinness test. After nearly two years they developed a new brewing method to deliver the flavours they desired. It clearly worked as they won the Gold at the 2019 World Beer Awards. 
Freestar pours beautifully and gives a crystal clear, straw coloured beer topped by a strong head that refuses to fade. The bergamot (another citrus fruit that was new to me) gives a distinct citrusy aroma that combines well with the floral scent of the perle hops within the beer.
With four different citrus fruits in the beer, it's no wonder that they deliver the initial punch of flavour. However, the hops very quickly follow and combine to deliver an excitingly complex drink – the citrus fruit delivers both sweetness with a sour edge and the hops a wonderful floral flavour with an accompanying bitterness.
Conclusion
It's exciting to see such a variety of great tasting beers being brewed across Europe. As the market grows with more new companies and existing ones expanding their range, it really is a great time to be an alcohol-free beer drinker. 
I've really enjoyed trying these beers and it's been a fantastic reminder how far alcohol-free drinks have come. These are not just good alcohol-free beers. They are good beers that just happen to be alcohol-free. 
Try Them Yourself
If you'd like to try any of these drinks, they're all listed individually on GoodStuffDrinks.com or combined into a variety pack for Dry January.