What Happens When You Take a Break From Alcohol?
Dramatically Improved Sleep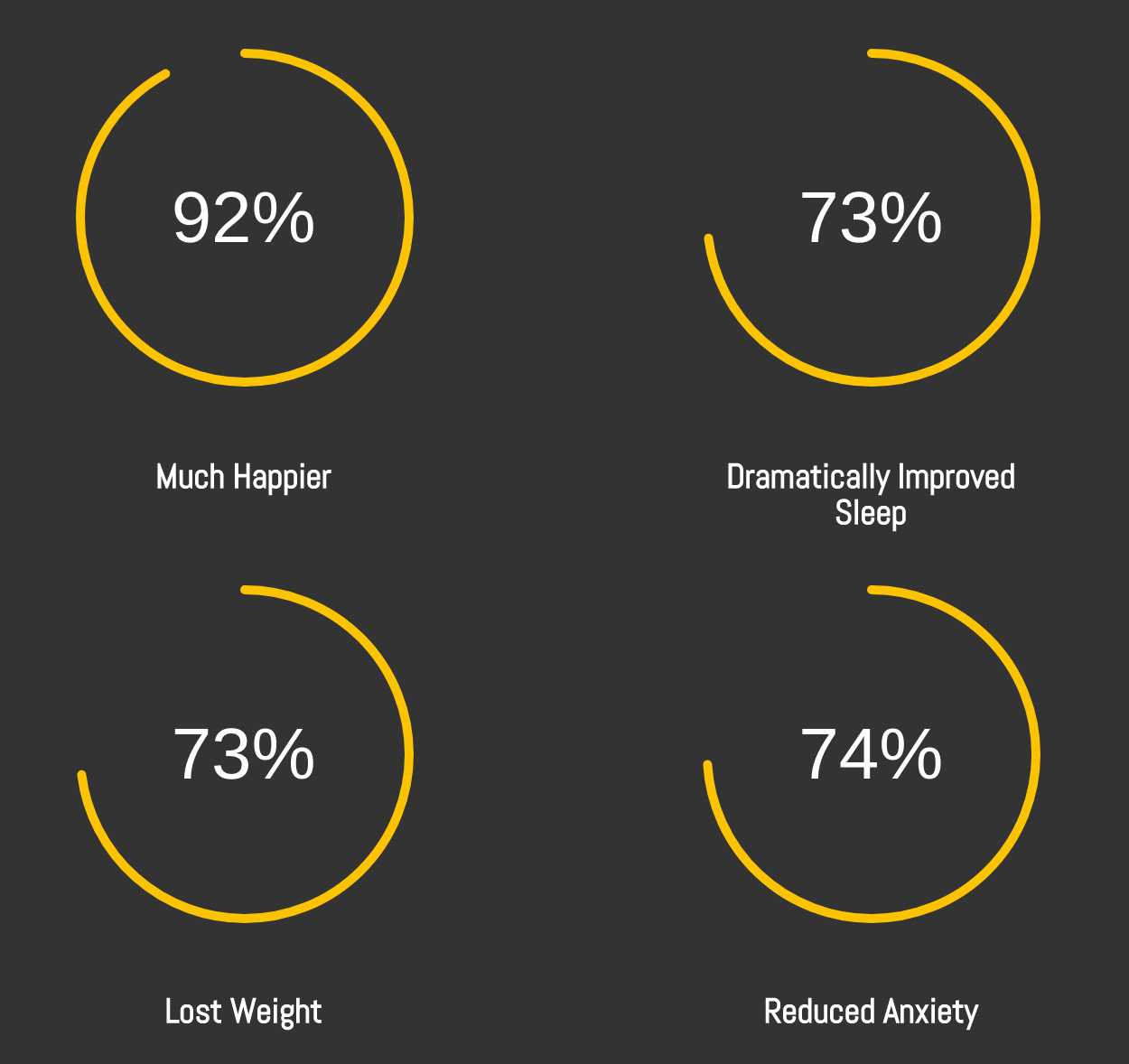 Alcohol is a proven depressant and only covers up the effects of anxiety… a crutch that's gone in the morning.
The result, as your body dedicates its resources to processing the toxins you've poured into it is – you guessed it – even more anxiety.
Break the cycle and thrive with real confidence.
✓ boosted productivity & motivation
When you aren't lying around with a hangover or feeling hazy from booze, you have the energy to get more done.
Start that business, write that book. Smash those goals you've left on the back-burner.
Your skin is one of the most obvious places the effects of toxins show.
In many cases your complexion improves, dry skin becomes much more manageable and people will have no choice but to compliment your new shimmer and shine.
Naturally, the money you'd otherwise be spending on booze ends up staying in your bank account.
This could be enough to pay for a holiday for the entire family every year, or put the worries of a rainy day firmly to bed!
No matter how hard you're pushing it in the gym all week, a night on the sauce can undermine all your hard work.
Get rid of that extra intake and finally see the pounds drop off once and for all. You'll be lean and mean before you know it.
Proper, restful sleep that sees you spring out of bed in the morning, ready to tackle whatever the day throw at you like Rocky in Speed. Imagine that!
Today is the day you become the HEALTHIEST, HAPPIEST, MOST PRODUCTIVE version of YOU!
See How OneYearNoBeer Changed These Members Lives
Plus a look into our MASSIVE live events
You might be wondering "Why 90 days? Do I really have to go that long?"
The answer is: Absolutely not – that's the unique beauty of OYNB.
While we've found in most cases the real magic happens somewhere between 30 and 90 days, this tailored process offers you the freedom to choose.
OYNB is about control within your own life. That's what truly matters.
So if you want to go 28 days, you can. Want to go all the way to 90? You can.
Decide to go FAR BEYOND 90 days (as a huge number of our members already have)?
You bet your ass you'll have the control to do it.

This is your chance to take the power back – and yes, sometimes that means you might choose to have a drink. The key is that it's your choice and nobody else's.
Leave the stress and shame to those in more restrictive, guilt-laden abstinence programmes. Take the easy route and simply "hack" your way to power alongside us – because we'll never make you feel like a failure for exercising your newfound freedom.
That freedom's right here for the taking.
You don't need anyone's permission to grab it.