"A motivated workforce is an important factor in a company's success. Motivated employees are more productive and enable an organisation to achieve higher levels of output."
Over seven in ten (73%) UK workers want their employers to make more effort to motivate them, according to recent research commissioned by benefits provider Reward Gateway.
The research by Reward Gateway also found that the majority of strongly motivated respondents take pride in their work (84%), and those who are extremely motivated tend to say they have a good understanding of their organisation's business goals (55%). A motivated workforce is an important factor in a company's success. Motivated employees are more productive and enable an organisation to achieve higher levels of output. 
Ways you can motivate your workforce:
Encourage camaraderie and peer motivation

Help your staff be good at their job

Encourage and recognise hard work 

Allow your workforce to make an impact 

Offer opportunities to grow professionally 
What is the impact of poor motivation?
Conversely, envisage a situation where an employee is not motivated at work. They may use the time at their desk to surf the internet or perhaps looking for another job. This is a waste of a business's time and resources, and it may also be harmful for the employee's wellbeing. If the majority of your workforce is unmotivated, this disengaged picture multiplies and output suffers. This is not a position any business, or person wants to be in. It is not healthy for the business, or the employees. 
Poor motivation can have a major impact on businesses and employees quality of life and cause them to disengage from their work. The top five effects of poor motivation reported by respondents in the Reward Gateway research were worsening mood (60%), reduction in productivity levels (48%), declining mental health (46%), reduction in quality of work (40%) and a worsening diet (28%). 20% of employees surveyed also admitted to drinking more alcohol when unmotivated.
Increased alcohol use equals more hangovers, and alcohol-related absences, for employees. These absences cost workplaces millions every year as a result of increased absenteeism, reduced productivity, greater stress and a negative effect on team morale. In addition, hangovers estimated to cost the UK economy £1.9 billion a year.
Disengaged, unmotivated employees cost businesses billions
Studies routinely show that the majority of employees are disengaged, and not motivated by the businesses they work for. A survey of over 350,000 respondents over a three-year period by Gallup named "State of the American Workplace", found that 70% of workers are 'not engaged' or 'actively disengaged' and 'are emotionally disconnected from their workplaces and less likely to be productive'. The report states "Gallup estimates that actively disengaged employees cost the U.S. between $450 billion to $550 billion each year in lost productivity. They are more likely to steal from their companies, negatively influence their coworkers, miss workdays, and drive customers away." 
How do we motivate employees to do their best work?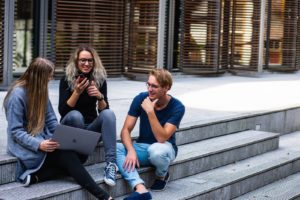 Money is often assumed to be the greatest motivator for a workforce. However, a study by the employee engagement agency Tinypulse found differently. Asking over 200,000 people "What motivates you to excel and go the extra mile at your organisation?" the answers make for interesting reading with money ranked seventh by the respondents. 
The results were as follows: 
Camaraderie, peer motivation (20%), 

Intrinsic desire to a good job (17%), 

Feeling encouraged and recognised (13%), 

Having a real impact (10%), 

Growing professionally (8%), 

Meeting client/customer needs (8%), 

Money and benefits (7%), 

Positive supervisor/senior management (4%), 

Believe in the company/product (4%)

Other (9%)
The importance of corporate culture
In his article "What Motivates Employees to "Go the Extra Mile?", Lipman suggests looking at several of the most popular responses in the Tinypulse study. Considering 'camaraderie' alongside 'having a real impact', 'feeling encouraged and recognised' and 'growing professionally', shows a steer towards employees being motivated by working in a positive environment. In brief, positive feelings towards a business' corporate culture is key for employees to be motivated and to do their best work. Is the culture encouraging and supportive? Is their professional development prioritised? Do they feel like they make a difference? Does their workplace have a positive impact on their overall lives?
A happier, healthier, more motivated workforce
A 2019 Acas study of the key issues for working lives found that staying healthy and being well is one of the most important issues for employees in their working lives. Businesses can build corporate cultures that encourage healthy living for all employees. Actions that may improve employee wellbeing include; creating a comfortable space for employees to work, placing importance on a good work-life balance, rewarding and recognising good work and encouraging employees to partake in regular exercise and limit alcohol-consumption.
Providing an alcohol-free corporate wellness programme like One Year No Beer to employees can be a beneficial way to improve your workforce's health and motivation, whilst saving your business money by improving productivity levels and reducing alcohol-related stress and absence. 
Lack of motivation at work impacts employee performance, productivity and overall wellbeing. Investing to create a positive corporate culture that prioritises employees health and wellness is essential to ensure your workforce does its best work.
If you are interested in finding out more about OYNB and the corporate programs for alcohol-free challenges, contact [email protected] or visit www.oneyearnobeer.com