"We have connected with fabulous people through OYNB and now meet up to run and support each other."
At the age of 47, we had been drinking for over 33 years, minus 2 pregnancies each. We grew up in a beautiful village in Leicestershire and had what looked like the perfect family life. A nice house, nice things, lovely holidays. We always felt loved, safe and looked after, however our Mum was an alcoholic. So, from our early teenage years, life could be pretty volatile. We mainly walked on eggshells, carrying a huge secret. We started drinking and partying at the age of 14 and were both in 'serious' relationships with much older boys by age 15. By pure luck we survived unscathed by these very risky behaviours and copious amounts of alcohol, eventually settling down to successful careers by our mid 20's. 
From then on…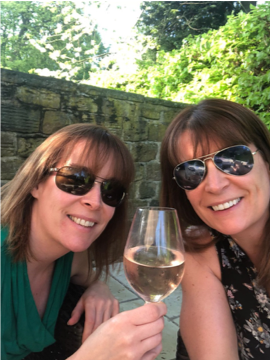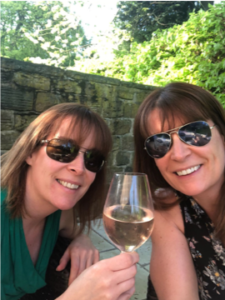 We worked together in recruitment and eventually set up businesses together. We both married, settled in Yorkshire and had 2 children each. We always knew alcohol was a huge issue in our lives as alcohol was always there to mask our past and we used it as an essential for absolutely any and every occasion. Celebrating, socialising with friends, sitting in on a Friday or Saturday night, after a challenging day at work or after a stressful day with the kids. It took us until now to realise we actually have a choice. 
Becoming sober curious
Laura was drinking and within an hour getting horrendous headaches and I would be sitting watching a film with my youngest daughter with a gin and tonic and within half an hour feeling emotional and tearful. Something had to change for both of us and whether that decision was exasperated by age related hormones or something else, we both felt there must be more to life. Laura luckily stumbled upon an advert for One Year No Beer on Facebook and started following the posts and encouraging me to join and give it a go. It took me a whole month to come around to the idea and join this amazing tribe. 
Our OYNB experience
Since then life for both of us is almost unrecognisable. Laura is now on day 130 alcohol-free and I'm fast approaching day 100. We are both feeling amazing, we have reignited our love of yoga and running, especially when it comes to competing against each other at our local Park Run. We have connected with fabulous people through OYNB and now meet up to run and support each other. We have had the confidence, inspiration and courage to set up our own health, wellbeing and fitness YouTube channel called Twinsire2020. We have both been more focused and proactive at work and at home.
The biggest transformation however is the change in the relationship we have with ourselves. Understanding that there is a different way out there. That you don't have to follow social norms, where alcohol is an essential life necessity. That the real us is good enough. 
Thank you so much One Year No Beer, I genuinely believe that without Laura stumbling across you we would not have found ourselves connected with so many amazingly inspirational people, set up our YouTube channel and been on a journey to discovering our genuine selves.