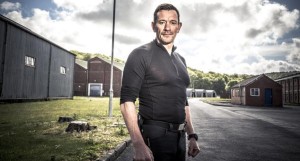 We are extremely proud to announce that Ollie Ollerton has joined us in the fight to make alcohol free cool.
Ollie joined us after taking on the 90 day challenge which completely changed his life.  He is passionate about getting others to realise the benefits of going for a longer stint without alcohol.
Don't know Ollie? Well let us fill you in:
Matthew "Ollie" Ollerton isn't only a TV star, but he's a former UK Special Forces operative with extensive experience in various international missions, how lucky are we?!
Once Ollie got back to the UK after 13 years overseas he wanted to find a way to allow his training and experience to benefit others. He started with bringing UK Special Forces members to the forefront with the Channel 4 series SAS: Who Dares Wins and then began BREAK-POINT which provides leadership and development courses to the public and corporate sector alongside veterans suffering the effects of Post Traumatic Stress Disorder, PTSD.
Now after diving into the OYNB challenge he's going to be helping change lives as the OYNB Celebrity Ambassador. 
What is OYNB?
The fastest growing Alcohol Prevention system in the world. Since the launch in Feb 2016 we have transformed the lives of thousands of members in over 70 countries around the world.  OYNB offers a platform for everyday drinkers to take a break from alcohol, focus on healthy lifestyle choices.
Why is OYNB Different?
With associations with Professional Footballers Association and other sporting bodies, OYNB is revolutionizing the Alcohol Prevention marketplace.  This is less about giving up alcohol and more about changing your life. Huge improvements in productivity, energy levels, improved diet, relationships, fitness etc etc. this one simple change is completely transforming lives.  OYNB is on a mission to prove that Alcohol is the gateway to Health.
How do I get started?
Right now the 90 Day Challenge is 100% free – so simple head to www.oneyearnobeer.com click signup and you can enter a date to start your challenge.
Some Words from Ollie
"I was just a normal drinker, having a few pints with the lads, so I had no idea so much would change for you.  The 90 Day Challenge with OYNB has given me a life boost, SOOO much more energy, more clarity, I'm extremely grateful to those guys and I'm honoured to be an ambassador for this game changing movement."
Save