To mark Mental Illness Awareness Week in the United States, we are here to suggest some practical tips for improving your overall mental health. 
Whilst we can pay special attention to mental health during awareness weeks such as these, it is important to consider the practical things you can implement year round to ensure you give yourself the best opportunity for positive mental health. Implementing healthy habits that last a lifetime such as journaling, meditation or regular physical activity can all positively influence your mental wellbeing.
Today, we bring you some tips for preserving your mental health as we enter into the Autumn months to feel prepared, comforted and healthy. 
Top tips for improving mental health:
Let daylight and fresh air in

Change your cushion covers to bright colours

Reach out to loved ones

Find a creative outlet 

Invest in some indoor plants
These tips may seem simple, but sometimes it's easy to forget to implement the basics that make all the difference in maintaining a positive mindset. What you put into your body on a daily basis, your environment, and how you spend your time are huge factors in determining your mental state. Thus fundamental things such as eating a balanced diet, exercising regularly, and establishing an effective evening routine to ensure a good night's sleep are some of the most important things to preserve your mental health. Beyond these, there are lots of little changes you can make to brighten your day that contribute to your mental wellbeing. 
Top tips for mental wellbeing this Autumn
Let daylight and fresh air in
As the days get shorter and we naturally experience less daylight, it is important to ensure we make the most of the light during the day. Almost 50% of the population worldwide suffers from Vitamin D insufficiency which can mostly be attributed to lifestyle and environmental factors that mean we have reduced exposure to daylight. By making changes to your daily routine, you can increase the amount of time spent either outdoors or experiencing natural daylight, such as taking a short walk on your lunch break at work, or even just making sure you sit in a well lit space. 
As well as daylight, a source of fresh air is important as it feeds your brain the oxygen it needs to function properly. Try to avoid sitting in a stuffy home office or car by cracking open a window.
Change your cushion covers to bright colours
It is well documented that a person's environment can have an impact on their mental health. Being in a nice space where you feel relaxed and comfortable can be crucial for mental wellbeing, and can even impact your levels of creativity. Try to find some time to invest in the spaces you spend the most time in – look after them, keep them clean and tidy, and consider the colours you use in these rooms. Colours can evoke spontaneous emotional reactions that can affect mood and stress which in turn can impact mental wellness. By changing the colour of the cushions or other decorations, you can inject a little joy into your safe space.
Reach out to loved ones
While the varied and ever developing restrictions of COVID-19 across the globe may throw some spanners in the works when it comes to seeing your friends and family in person, we are lucky to live in an age where social interactions can take place regardless of location. If you can't see your loved ones in a physical place, continue to reach out using technology to stay connected. Catch up over a coffee on a video call, send one another photos to update each other of your days, or send care packages to remind one another that you are still supporting from a distance. 
Find a creative outlet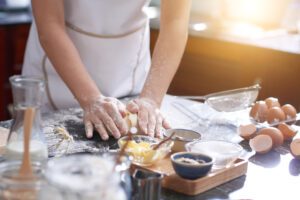 There are so many options for creative activities you can try, from painting, to playing an instrument, or embroidering your clothes. By engaging in these fun, creative tasks, you are releasing dopamine into your brain, a chemical that can motivate you and reduce feelings of stress. Creativity can not only help you become happier, but it can also reduce your chances of developing mental problems such as dementia at a later date.
Invest in some indoor plants
Humans have been decorating their homes with plants for hundreds of years as bringing nature inside helps us to feel connected to nature in the outside world. Beyond simply being nice to look at, there are a number of benefits to keeping indoor plants, for example they can help to improve the air quality in the space where they're kept, improve productivity and attention span and reduce stress. Taking some time to shop for your favourite indoor plants and flowers could have a positive influence on your overall mental wellbeing. 
Most importantly…
Remember, similarly to physical health, there will be days where you feel fit as a fiddle, and others when you feel less so. The main message here is to offer yourself some space and time for self-care. Remind yourself that it is okay to take time to invest in your mental health and create a safe environment for you to exist in. Mental wellbeing requires a holistic approach to create balance, so implementing small changes across different areas of your life over time will help to promote a positive mindset.