How To Stop Drinking – A little taster
How to stop drinking is something that many people wonder, and they simply assume that it's an impossible task  At OneYearNoBeer we totally get this. We have all been there, just like you, we know what its like when you drink alcohol to celebrate, commiserate, destress and socialise. Alcohol finds its way into most areas of our lives so the thought of stopping is more worrying that the thought of continuing on this downward spiral. But we are here to tell you that there are now thousands of people just like you, who thought exactly the same yet have completed the 90 day challenge and totally changed their view of alcohol forever.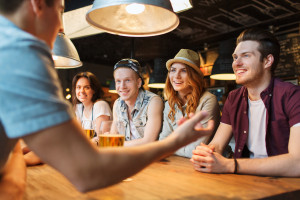 The key to going alcohol free is to plan.
It sounds over the top but trying to wing it does not work. Further more everyone needs a decent excuse for giving up alcohol, its sad but true. Most well-meaning friends, family and colleagues will do their upmost to derail your efforts in an attempt to get their drinking buddies back. OneYearNoBeer is your excuse – You are on a challenge, nothing more, nothing less and everyone loves a challenge. This is just another to add to the mud races and marathons. 

Talk to your friends and tell them how serious you are about giving up alcohol.
Another top tip is to take out the 'ring leader' within your group. Before you meet that 'friend' in the bar, the one who holds court who can also make your life a misery with their witty repertoire, tell them all your reasons why you are on this alcohol free adventure.  This is not a text moment, meet this person face to face if possible and get the ring leader onboard, once you have their backing, watch the rest follow.
Another top idea to help you give up alcohol is to reward yourself.
Keep the money that you would have spent on alcohol and use it to buy something more interesting instead. We are talking some serious cash when you add this up for a few years. Perhaps you could buy the ring, the house, the lifestyle you always wanted?
Join a community of like minded people and discover how to stop drinking easily.
Use the OneYearNoBeer forums and Facebook groups to gather support and inspiration from people just like you. This can act as a great source of motivation and a brilliant place to collect more tips, tricks and hacks to help you on your journey. 
This is a mere taster of different techniques you can use when you want to stop drinking. You will also find plenty of other pieces of advice on how to stop drinking on our website, in the forums, Facebook groups and our free e-book.
Good luck on your alcohol free adventures,
Andy & Ruari