Looking for some fun and delicious non alcoholic cocktail recipes to try at home? We have some tantalising suggestions!
If you still love the excitement of mixing up inventive cocktails and finding the yummiest new flavour combinations in one tasty drink, you don't need to stop now that you have decided to take a break from alcohol. There are a whole range of fabulous alcohol-free spirit options available so you can continue experimenting and cocktail shakin'.
If mocktails aren't really your thing, then check one of these blog posts instead! 'Our top 14 AF and low-alcohol beers', 'The best non-alcoholic and low-alcohol wines for 2020'.
The best non-alcoholic spirit alternatives:
Alcohol-free spirits reviews and recommendations:
We have taken our time to research and review some of the best options for alcohol-free spirit alternatives in order to zhuzh up your mocktail recipes, check them out below!
STRYYK
STRYYK is an innovative organisation specialising in alcohol-free spirit alternatives for the next generation of partygoers, offering 'not gin', 'not rum' and 'not vodka' options so there is something to suit any palette. 
Their belief is that just because someone has decided they are no longer interested in drinking alcohol, doesn't mean they can't enjoy a stylish, sociable alternative. They're proper alcohol-free spirits that let you join in on the ritual of celebrating with a drink in hand without compromising on taste or experience – and without the hangover! 
They recommend a number of tasty mocktail recipe ideas for each of their alcohol-free spirits on their website, but these NA spirits can be substituted in for their alcoholic counterparts in any of your old faves. 
Caleno 'Juniper & Inca Berry' Non-Alcoholic Spirit
This one is for all those G&T lovers out there, if you have been on the hunt for an alcohol-free alternative to gin, then this is a fantastic option for you to try. This fabulous alcohol-free spirit is highly acclaimed for its sweet, tropical aroma of pineapple and juicy berries and comes in a very sophisticated bottle that would have no one questioning it taking pride of place in a drinks cabinet. 
Ellie, founder of Caleno aimed to create a fun and exciting alternative to enjoy when you're not drinking and aimed to infuse the sunny spirit and culture of Columbia. You can keep this super simple with a splash of tonic, or amp it up by using it in your favourite 'gin' cocktail recipe or one of the delicious sounding concoctions they recommend on their blog. 
Seedlip
Seedlip was the world's first distilled alcohol-free spirit and they have developed a number of different flavour profiles inspired by nature to suit your preference, mood or desired mixer. They want to offer the perfect alternative for what to drink when you're not drinking, without sacrificing quality of ingredients or flavour. Their website offers a whole range of ideas for cocktail mixing, including some classics with their unique twist of flavours and flare including the aptly named CosNOpolitan, MartiNO or MiNOsa. 
Feragaia
Feragaia, created Scotland's first distilled non alcoholic spirit aiming to connect drinkers with Scotland's natural surroundings in a new era of drinking. The zero sugar spirit gets its flavour from 14 different botanicals from land and sea with a bold depth balancing citrus and herbaceous aromatics, which builds to a warm finish and amber colour. 
Feragaia describe the complex flavour notes of this alcohol-free spirit as:
"familiar citrus from blackcurrant leaf, kaffir lime and lemon verbena. A drawn-out herbaceous body is then introduced with nuances of chamomile, pink peppercorn and serrated wrack. This takes you all the way to a light smokey note and lengthy, warming finish from cayenne pepper. Citrus meets spice in a drink that is clean and complex."
Due to its unique and layered nature, this spirit can be enjoyed on its own over ice, or it can be added to some cult classic cocktails to spice things up – without the headache!
Lyre's
Lyre's range of non-alcoholic spirits was borne from a quest to give the freedom to drink your drink, your way. They craft their spirits to taste just like the classics they pay homage to, sourcing the finest all natural essences, extracts and distillates from the four corners of the globe. Of all of our recommendations, they offer the most extensive range of options, from alternatives for Amaretto, Aperol, Campari, Triple Sec and more. In addition, they make a point of being clear with regard to which of their products are vegan, gluten free, nut free and more so if dietary requirements are a concern, you are covered! 
If you are looking for that elusive ingredient to complete your non alcoholic cocktail favourites, you're likely to find what you need. The options for recipes here are truly endless, combine a few of these exciting non alcoholic spirits together to create your own unique blend, or follow some of their suggested serves for a fool proof alcohol-free cocktail.
Did someone say mocktail?
No doubt you are champing at the bit to get experimenting with this innovative and unique non alcoholic spirits – and we are here to provide some inspiration for where to get started! Here are some of the OYNB team's favourite mocktail recipes.
Non Alcoholic Espresso Martini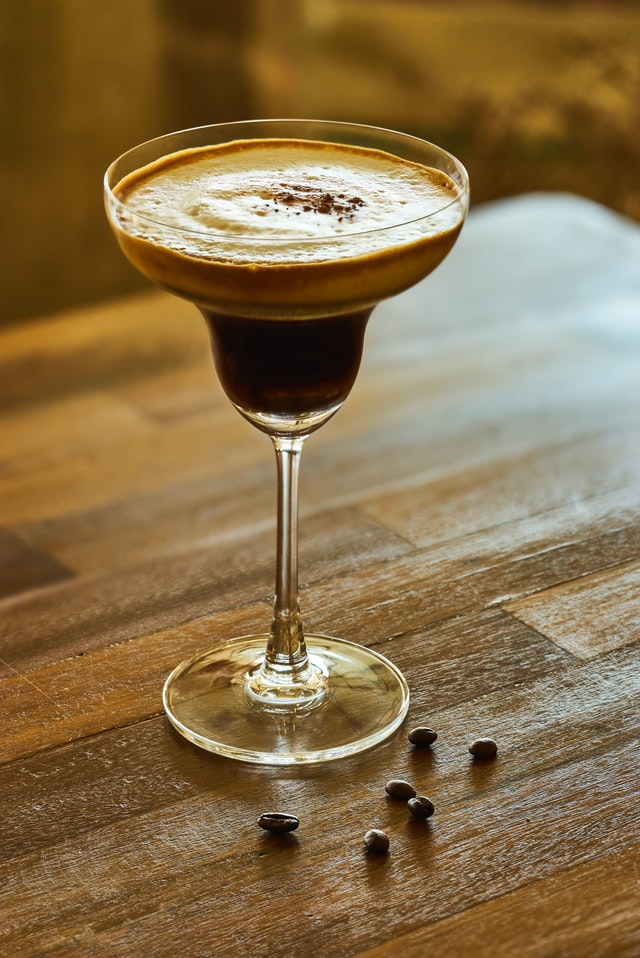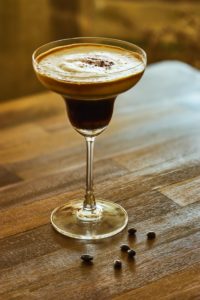 An espresso martini is a sophisticated option for those who love coffee and with an alcohol-free coffee liqueur becomes accessible for those looking for all the class of this tasty cocktail without any of the hassle. 
You will need:
50 ml alcohol-free coffee liqueur (such as Lyre's Coffee Originale)

50ml freshly brewed espresso (you can make this decaf if you prefer!)

35ml NA vodka (such as STRYYK 'not vodka')

1 tsp sugar syrup (or vanilla syrup)

Cocktail shaker

Ice
To serve:
Martini or lowball glass

Coffee beans to garnish (optional)
How to make:
Fill your cocktail shaker halfway with ice, and pour over your AF coffee liqueur, espresso, NA vodka and sugar syrup before shaking vigorously (this is how you get that foamy top!) until you feel the cocktail shaker become icy cold on the outside. Strain your mixture into your desired glass and top with a couple of coffee beans to finish. 
MojitNO
A mojito is a classic crowd pleaser, and very simple to make alcohol-free. Made from only 5 core ingredients, 4 of which are already, conveniently, alcohol-free means all you need to source is an alcohol-free version of a Rum (we have given you a couple of options in the list above!)
You will need:
50 ml NA Rum (such as STRYYK 'not rum')

1 tsp sugar syrup (optional) 

A small handful of mint 

The juice from one lime

Soda water (to taste)
To serve: 
A highball

Crushed ice (or cubed, whatever you have to hand)

Mint for garnish
How to make:
Muddle your mint to soften the leaves and release a more intense flavour. Add in your lime juice and sugar syrup, along with the muddled mint into a glass or small jug over crushed ice. Begin pouring your NA rum into your mixture, stirring well. Depending on personal preference, add your soda water until you are happy with the ratio and garnish with a sprig of mint to serve. 
Alcohol-free Sidecar
If you have never tried an alcohol-free sidecar before, then this should definitely be one on your list of mocktails to try out. Its light, fruity flavour makes it a fun option whilst preserving a distinct sense of sophistication. 
You will need:
50 ml NA cognac substitute (such as Lyre's American Malt Non Alcoholic Spirit)

25 ml AF orange liqueur (either an orange sugar syrup or Lyre's Orange Sec)

25ml lemon juice

1 tsp sugar syrup (optional)

Cocktail shaker

Ice
To serve: 
Martini or lowball glass

Slice of orange peel
How to make:
Fill your cocktail shaker halfway with ice, then pour over your NA cognac, orange liqueur or syrup and lemon juice. Shake well until you feel the outside of the shaker become icy cold. Serve your mixture into your desired glass and add your garnish. Enjoy!
GimNOT
If gin was your tipple, but an NA G&T isn't cutting it then why not try this alcohol-free take on a Gimlet. Again, this classic cocktail is super easy to make alcohol-free with a whole variety of non alcoholic gins on the market to experiment with.
You will need:
50ml lime cordial or homemade lime syrup

25ml freshly squeezed lime juice

50ml non alcoholic gin (such as Seedlip, or STRYYK 'not gin')

Cocktail shaker

Ice
To serve:
A slice of lime (optional)

Martini or lowball glass
How to make:
Fill your cocktail shaker halfway with ice, add in your AF gin, lime juice and syrup to the shaker and combine by shaking vigorously. Serve into your glass with a lime wedge.
And there we have it!
Who said being alcohol-free had to be boring eh? All of these tasty recipes are ready and waiting to be sampled and explored – and all without the stress and strain of a hangover the next day. If you have some favourite mocktail recipes you'd like to share with us, let us know in the OYNB communities or tag us on social media.