Autumn is a time of leaves changing, fires roaring, and layers increasing. With this often comes celebrations that include alcohol. If you are taking a break from alcohol, you may be worried about how to maintain your challenge throughout this period. 
Luckily, there are a bunch of fun and festive autumn activities that you can participate in without the need of alcohol. If you are ready to get into the festivities, here are a few family-friendly things that you can try out this holiday season. Read to the end to get some brilliant Autumn mocktail recipes, and if you are more of an alcohol-free beer or wine lover, check out our recent blogs on the 'best non-alcoholic wines' and 'best non-alcoholic beers for autumn'! 
Alcohol-free Autumn activities:
Pumpkin carving
Camping
Baking
Mocktail making
Pumpkin Carving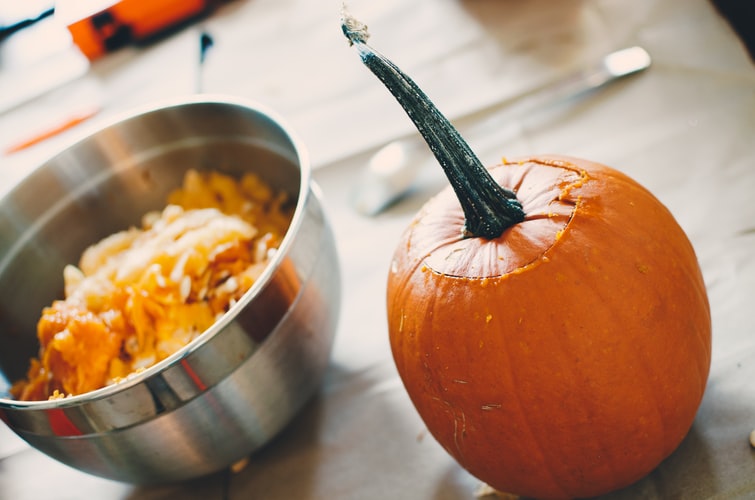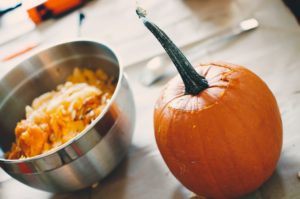 Pumpkins don't have to be just for Halloween, switch out the scary faces and spooky cat templates for something else and you can celebrate using pumpkins all Autumn. This is a universal favourite that is fun for the whole family! Luckily, many local food shops now sell full-sized pumpkins that you can clean out and cut into, and you can use the insides for any Autumn recipes you'd like to try. 
Whether you are having a friendly competition for best carving or just want to get some friends together, pumpkin carving is a great Autumn activity.
Camping
With the weather cooling down and the leaves changing, now is the perfect time to get out there and explore the wilderness. You can take some friends, your significant other, or even your dog to enjoy the outdoors.
There are tons of activities that you can do while camping. Going on hikes, watching the stars, and roasting marshmallows over an open fire are all great things that you can do during your time in the wild. Just make sure to be safe and that the fire is fully put out before going to bed or leaving the campsite.
Baking
One of the best things about autumn is all the great treats and pastries that are common with the season. Whether it is pumpkin or apple pie, there are a number of different fun things that you can bake this holiday season. There are endless resources and recipes that you can find online to make deciding on what you want to make that much easier.
After all, you can sneak those extra treats when you are all wrapped up in cosy jumpers and blankets!
Mocktails
Along with these fun Autumn activities, chances are that you will want to be around friends at parties and festivities. There is no reason you can't still celebrate with a celebratory drink, just without the alcohol! 
Caramel Apple Pie Mocktail
Nothing says autumn more than apple pie. This caramel apple pie mocktail recipe will get you in the mood for a nice breezy Autumn day. 
To make a great festive drink, use these ingredients and follow these instructions:
6 cups apple juice

1/2 cup caramel syrup

3 cups sparkling water

2 tsp cinnamon

2 apples

Rosemary sprigs, (around 6)

Golden brown sugar to put onto the rim of the glass
Instructions:
In a pitcher mix well the apple cider with the caramel syrup and add the cinnamon.

Cut the apples into thin slices and add them to the pitcher. Add the rosemary sprigs and let it sit for 20 minutes.

After the 20 minutes have passed, pour the sparkling water into the pitcher. Mix.

Grab the glasses and rim them with the golden brown sugar.

Pour the caramel apple pie mocktail into the glasses.
Cranberry Orange Mocktail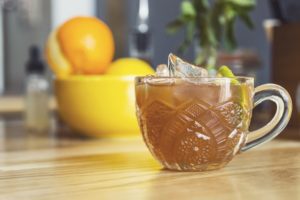 One of the best things about Autumn is the fresh orange juice as the citrus has begun to ripen. If you love orange juice, this cranberry orange mocktail is a must-try.
If you want to make this awesome, fruit-filled drink, just use these ingredients and follow these easy instructions: 
3 cups cranberry juice, chilled

3 cups pulp-free orange juice, chilled

1/2 (2 liter bottle) Sprite® Cranberry Zero, or another similar alternative chilled (about 4 1/4 cups)
Instructions:
In a large punch bowl, add the cranberry and orange juices.

Slowly pour in the cold soda. Stir gently, if needed.

Serve immediately in cups over ice.

Garnish with cranberries and orange slices, if desired.
Chai Blossom
If you love tea, then this chai blossom is perfect for you. If you are looking for a good mocktail and one that will make you feel warm on a nice fall evening, then you'll have to try this drink sometime this autumn.
If you are interested in making this fun, earthy drink, all you have to do is follow these instructions and use these ingredients:
   

1/2 cup sugar

   

1/2 cup fresh lime juice

   

8–12 oz. club soda

   

4 whole star anise pods

   

4 lemon twists

   

2 chai tea bags
Instructions:
 

Combine tea bags and 1 cup boiling water in a small bowl, cover and let sit 8–10 minutes.

 

Add sugar; stir to dissolve.

 

Discard tea bags and let cool.

 

Stir chai syrup and lime juice in a pitcher to combine.

 

Divide among 4 rocks glasses filled with ice and add 2–3 oz. club soda to each.

 

Garnish with anise pods and lemon twists.
Whether you are looking for a fun activity to do this Autumn or are looking for a substitute mocktail for a party that you're about to go to, Autumn can be a lots of fun without the use of alcohol.
Author Bio: Matthew Boyle is the Chief Operating Officer of Landmark Recovery, a growing group of drug and alcohol rehabs in Indiana and Kentucky. Matthew graduated from Duke University in 2011 Summa Cum Laude with a Bachelor of Arts degree and has worked in the healthcare industry ever since, creating a holistic treatment model that supports patients in the pursuit of achieving lifelong sobriety.