When Mother Nature treats us with glorious sunshine, there is nothing better than kicking back with a refreshing drink – so here are some of our favourite alcohol-free crowd pleasers! 
During the sunnier months, social plans are often taken outdoors to make the most of the beautiful weather (or to comply with your local restrictions). No matter if you are in a beer garden or your own backyard, we have some inspiration for tasty drinks you can make or order to feel those summer vibes.
Alcohol-free cocktail ideas
Tantalise your tastebuds with these refreshing summer drink ideas!
A summer cup – non-alcoholic Pimms
A British classic! What says sun and summer more than a glass full of fruit? You can recreate this staple a couple of different ways depending on your preference so have an experiment, taste test and see what you like best!
The balsamic vinegar edit
In this version, slowly add a small amount of balsamic vinegar at a time (keep taste testing as you go to ensure you don't go too heavy on the vinegar!) into a glass or jug of lemonade, stirring well as you go. Add lots of ice, and your choice of summer fruits. Mix well and serve!
The kombucha edit
If the idea of adding balsamic vinegar to your drinks is a little too odd we have an alternative. Mix equal parts of kombucha, alcohol-free pale ale and soda (or lemonade if you like it sweet!). Pour over ice and serve with your choice of fruity garnishes!
Aperol reinvented
A glowing alternative to this summer favourite is our reinvented Aperol Spritz. Meet Wilfred's Bittersweet Orange and Rosemary non-alcoholic drink, a carefully crafted blend of natural botanicals, made with orange, rosemary and just a hint of rhubarb. Simply serve over ice and top up with your choice of tonic, non-alcoholic sparkling wine or soda!
Fruity iced tea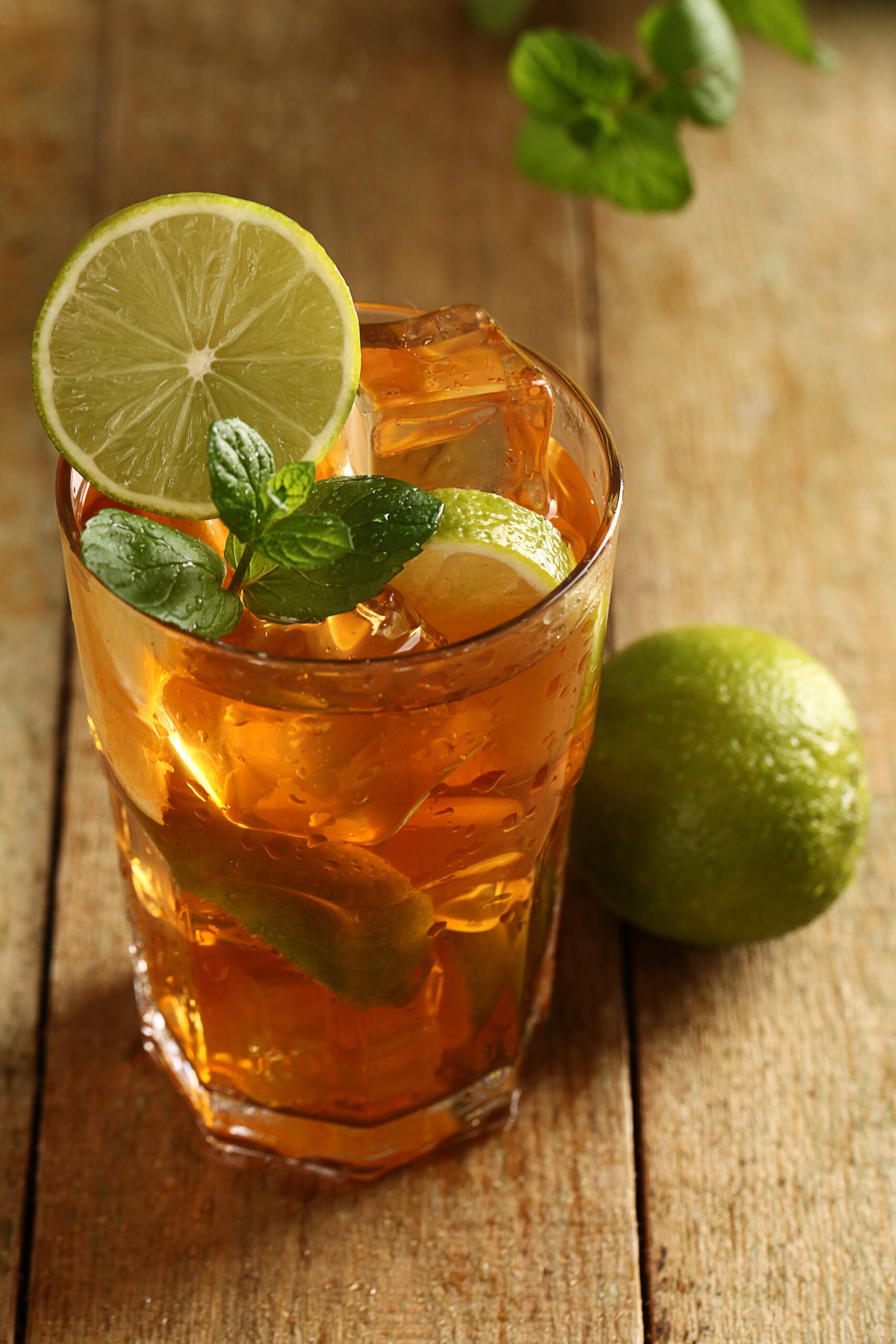 Another cult classic that, with a little tweaking, can be made your own. First step, choose the tea you'd like as a base. Whether you go for a black, green or fruity tea, this will start to build the flavour profile for your iced tea. Brew your tea for around 10 minutes – remember to add a tea bag for the same number of portions as you would like to make. Next, decide on how you'd like to sweeten your drink – make a simple sugar syrup (you can also experiment with fruity syrups such as a peach sugar syrup!), add some honey or top up with lemonade. Whatever suits your preferred sweetness level. Finally, add in a squeeze of lemon, orange or other fruit juices and top off with lots of ice. Enjoy!
Summer slushy
What is more refreshing in the summer heat than a drink made of ice? Plus, slushies are so reminiscent of childhood, a yummy and fun way to keep cool and can look fabulous in a champagne saucer or other glassware to give it a grown-up edge.
You will need a blender for this one – but that makes it super-simple to make. Choose your favourite fruit and pop it in the freezer for a few hours. Once it is frozen, drop into your blender with a handful of ice, add a squeeze of lemon juice and blitz until smooth. If you'd like your mix a little sweeter, you can add some honey or agave at this stage, giving it a quick mix to incorporate before serving into your glass. 
Homemade ginger beer
Do you prefer something a little more fiery than fruity? Maybe this homemade ginger beer will tickle your fancy! Add 200g of peeled and thickly chopped ginger into a saucepan with the peel of two lemons, 100g of light brown sugar and 75g of caster sugar over a low heat. Add 500ml of water and wait for the sugar to dissolve. Simmer on a medium heat for 10-15 minutes, or until it begins to thicken into a syrup. Strain your mixture to remove the pieces of ginger and pour a little over ice into the bottom of a cup and top up with your choice of lemonade or soda. This recipe is super easy but bound to impress.
Taste test time!
Okay, there you have it – some inspiration for some fabulous drinks you can make while enjoying the sunny weather, keeping yourself hydrated and avoiding any heavy heads the following day. Let's make the most of our time this summer!